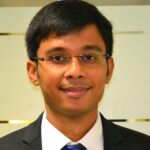 Lakshman Molleti is the founder of AWBP INDIA project. He is a software engineer working for a MNC in India. Apart from his professional work, he love playing flute, singing, dancing, cycling, photography, making short films to create awareness, supporting stray animals at his place thru virtual adoption, Educating people about animal welfare and driving new ideas which helps animal welfare.
He is a vegan by choice. He love animals and the cause of their welfare is very close to his heart as it has very positive impact on the planet. He always believes that "this world will be more balanced, if every human on this planet lives in simple lifestyle and also love and support all the animals equally".
This is the primary motive behind creation of this project. It has been close to 3 years in his mind to come with an idea,which creates better impact in animal welfare and also which fills the gap between between Humans and Animals.
Click Here to know more about this project.